Effective Storage Strategies:
Implementing an Archive Tier to Reduce Costs
The proliferation of unstructured data consumes countless terabytes and even petabytes of Tier 1 storage across almost every data center.
Reducing the costs associated with managing and preserving that data is of utmost concern.
IT departments everywhere can benefit by implementing an archiving solution that offloads expensive Tier 1 Storage to an affordable Tier 3 archive.
Data archiving is the answer.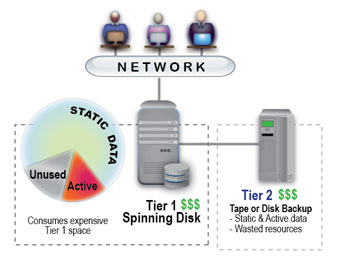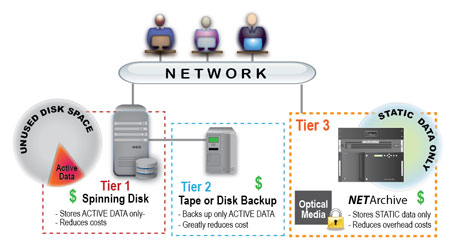 Taking the approach outlined in ASTI's whitepaper Effective Storage Strategies: Implementing an Archive Tier to Reduce Costs can greatly simplify implementation, ensure a seamless transformation for users, and reap significant cost savings for your organization.
Read on for a summary overview or Download the free whitepaper now.
---
1. Transitioning to Tiered Storage with an Archive Tier
There are five key steps for transitioning to a tiered storage environment with a Tier 3 data archive storage layer.
Understanding your data and its applicability to being archived
Find the correct balance between Tier 1 cost savings and possible impact on accessing data
Implement a transparent archiving environment with seamless archive data access
Understand the savings provided by freeing Tier 1 storage and replacing it with Tier 3 archival storage
Selecting the correct Tier 3 archival storage to maximize savings.


---
2. Understanding Your Data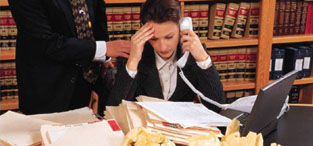 Industry analysis confirms that data storage requirements double on average every two years. The type of data created by the organization is a significant factor in determining what data to archive. For almost all organizations, the archiving sweet spot is unstructured static data.
---
3. Finding the Correct Balance: Cost Savings vs Impact to Users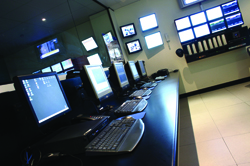 A proper balance of Tier 1 storage combined with Tier 3 storage will provide both cost savings and fast accessibility to the data. Organizations must determine how much of the data can be migrated to lower cost archival storage. The amount of time it takes to access the archived data can be extended by milliseconds to hours depending on the archival storage implemented.
At the same time, the larger the amount of data archived, the greater the savings results.
---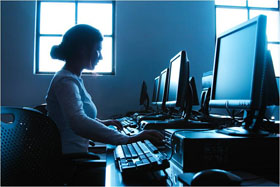 4. Transparent Archiving Environment with Seamless Data Access
How do you avoid impact to the organization's business operations while ensuring transparency for IT and user processes involving data access? Once data is relocated to Tier 3 archive storage, how will business users continue to access data seamlessly without affecting their existing data access processes?
Consider implementing a data migration process to relocate data to the Tier 3 archive storage. There are three general categories of solutions to look at:
Self-Managed Placement
Data Lifecycle Management Software Products
Content Management Systems
Ultimately, it is important to deploy a lifecycle management product that offers user defined data movement policies and data stubbing capabilities while ensuring dynamic relocation of data without encumbering normal business and user operations.
---
5. Understanding the Tier 1 Storage Cost Savings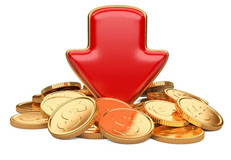 Initial Tier 3 acquisition costs can pay for themselves when balanced against deferred or eliminated Tier 1 storage purchases. Hence, immediate capital outlay can be reduced.
Archiving on the right technology further enables you to take control of technology refreshes, which require data migrations and significant capital investments, as opposed to technology obsolescence forcing the occurrence and timing of these costly events. Significant capital and operational cost savings are attained through elimination of power and cooling expenses.
---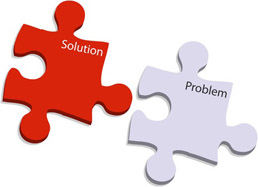 6. Selecting the Correct Tier 3 Archival Storage
Key business considerations for selecting archive storage technology include:
Corporate or Regulatory Mandate Requirements
Data Access / Recall Requirements
Business Continuity Requirements
Data Protection from Unauthorized Access
Investment protection through scalability
Selecting the right Tier 3 archival storage solution is paramount to success. Solutions must offer cost savings in raw storage, reduced operational costs, and must meet governance and mandate requirements. Scalability and elasticity decrease initial investment requirements and deployment costs while easily accommodating future expansion.
---
Tier 3 storage provides piece of mind knowing that a trustworthy copy of last resort is available and that your critical data is secure for the period of time that you want or need to keep it.
Download the entire whitepaper now
Stay updated - sign up for our email list
Contact ASTI today (719) 593-7900