Replication Feature for Business Continuity
Businesses and organizations have become reliant upon data in order to maintain operations. Continual availability of that data is crucial to ensuring uninterrupted business operations through the worst of disasters. Exclusive to the NAS Archive Appliance systems, the Archive Management Software's Replication option is the key to maintaining high availability of data and business continuity.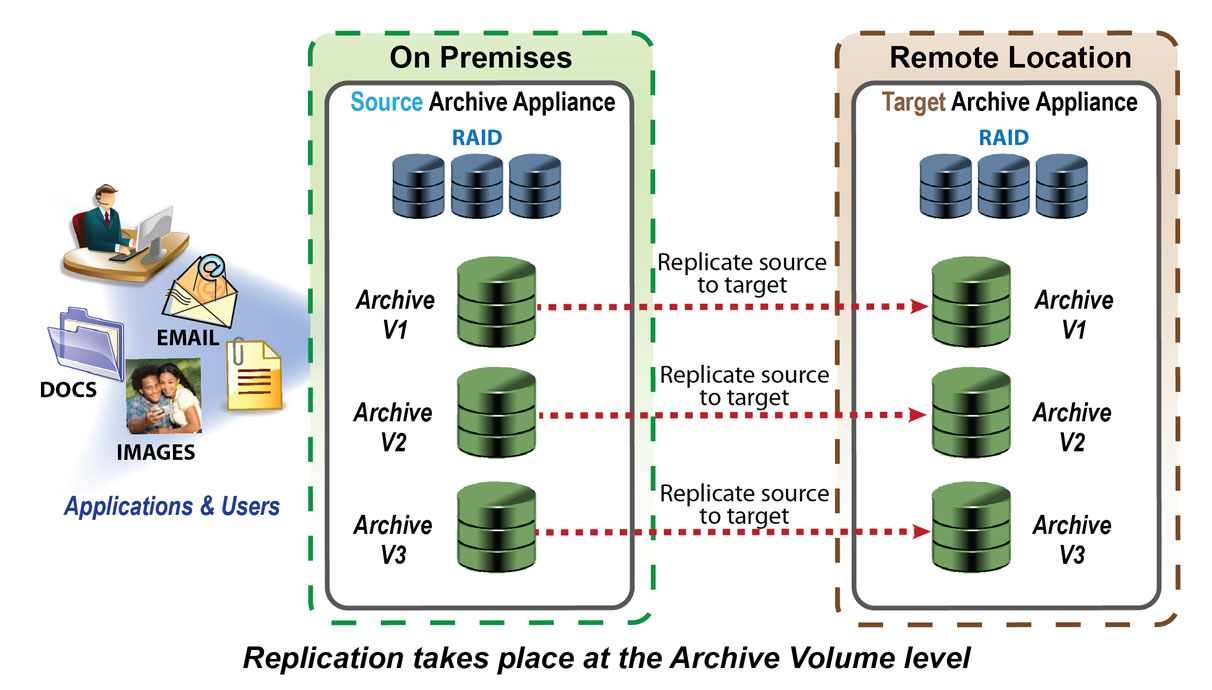 The Replication option provides a solid disaster recovery strategy allowing replication of data
to one or more additional libraries in separate geographical locations. Replication provides organizations with excellent RTO (Recovery Time Objective) and RPO (Recovery Point Objective) to support high-availability business continuity requirements. Libraries will be identical providing immediate disaster recovery fail-over to the backup site should the need arise.
Through Replication, critical business operations are maintained even in the event of a major catastrophic event.
Replication is an optional add-on to the Archive Management Software (AWS)



Features include:
Remote Data Replication – Replicated libraries may reside anywhere geographically with appropriate network connectivity
Total Redundancy Between Libraries – complete access to data is ensured with the replication of ownerships, permissions, and Access Control Lists (ACLs). Extended attributes are replicated along with data.
Automated Replication of Data – Set the schedule to the desired time of day in order to minimize network impact and the data will be automatically replicated to an Archive Appliance at another location.
Failover - Failback Switching – Easily switch Active-Passive replication between libraries as events dictate
Event Notification – Proactively manage system status and changes via email or centralized monitoring
Intelligent Change Tracking – Active tracking of updates in real time improves replication speed and availability
Centralized Data Management – Data from Archive Appliances located in regional and branch offices can be accumulated to a centralized Archive Appliance via the replication feature
Available for all Archive Appliance models running the latest AMS software. Field installed models may be retrofitted and upgraded with some exceptions.
For additional information contact an Alliance Data Archive Expert at 719-593-7900 or submit a Request for Quote