NETArchive ODA Optical Media
The NETArchive True Write-Once-Read-Many (WORM) optical media is extremely robust and offers an archival life estimate of greater than 100 years, making it the premiere choice for professional data archiving.
The NETArchive high-capacity 4.81 TB ODA3 media cartridge contains 11 optical discs that act as one volume of mass storage enabling files to span multiple individual discs. The sealed cartridge eliminates the requirement for managing individual discs preventing accidental data or disk loss due to human intervention.
Individual optical discs feature a protective transparent hard coating that assures stable read/write performance, offers scratch protection, shields against electrostatic discharge, and significantly reduces interference and disturbance.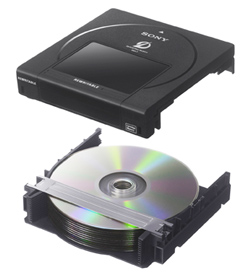 The heat-resistant polycarbonate cartridges feature a metal reinforcement bridge that provides mechanical strength and protects discs from internal and external load pressure, shock, and vibration. Each cartridge has a unique barcode for tracking purposes and is equipped with a built-in preformatted RFID chip utilized by the NETArchive system.
Download the NETArchive Media Datasheet.
Purchase optical media now - Contact Alliance Sales: 719-593-7900 or submit a Request for Quote.
Features
Features
Compliant Write-Once-Read-Many (WORM) preserves data unaltered for > 100 years
High-capacity, low-cost
Unquestioned record authenticity
Withstands chain of evidence scrutiny in court proceedings
Cartridge prevents human contact and secures media
Small profile lends itself to offsite storage
Improved media reliability with special protective hard coating
Does not require special environmental conditions while stored
Reinforced cartridge design protects disks
Preformatted with unique barcode & RFID chip utilized by NETArchive system
Drive provides real-time media monitoring
UDF multi-volume format