NET
Archive Products Overview
The NETArchive® is a purpose-built data archiving solution offering leading edge technology and features required by today's modern data centers. Through an innovative modular architecture, NETArchive offers multiple storage tiers consisting of NAS, optical and cloud and tightly integrated features such as data encryption and replication to create a robust and secure solution that can be tailored to meet the challenges of archiving data in today's complex IT environment. NETArchive solutions are available for Small-Medium (up to 15TB) or Enterprise archives (up to 802.5TB). Click on a link to the right for an overview of each solution type and its components.
The solution easily integrates into environments as Network Attached Storage and features a unique modular design that allows customers to architect an archive platform that provides dynamic Hierarchical Storage Management of data to the archive tiers with centralized control, management, and monitoring of the entire archiving ecosystem.
NETArchive Solutions are Based Upon Flexible, Modular System Components
There are important considerations associated with configuration of each of the major subsystems that will ultimately define your archive size and functionality with room for future expansion, for example: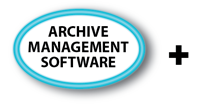 AMS Variables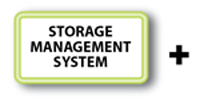 SMS Variables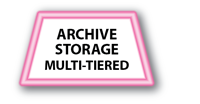 Archive Storage Variables
ASTI has developed a comprehensive archiving needs assessment that facilitates the process of determining the features and functions needed for your operation. Contact ASTI today to find out more 719.593.7900.