Disaster Recovery
Geographically, climates are changing and events that we thought would never happen are occurring on a regular basis. Natural disasters such as hurricanes, storms, fires, floods, power outages, and earthquakes, as well as man-made disasters, can all disrupt global availability of business data and disable continuity of business operations. This is especially true if data is housed in a single physical location.

Depending on an organization's Business Continuance requirements, even if the disaster creates minor disruptions such as disabled internal or external communication lines, organizations can experience loss of access to vital archived data. The result can be disrupted operations, minimized access to client or patient records, reduced customer service, and a tarnished business reputation.

Based on the Recovery Time Objectives (RTO) and Recovery Point Objectives (RPO) requirements for each application, differing disaster recovery techniques may need to be deployed. For applications that must be online to run the business, the objectives may be as short as 15 minutes, where as other data may be offline for a week before access is required.
ASTI's solutions survive disasters - Download the Hurricane Katrina case study

ASTI's Business Continuity Solutions
Disaster Recovery capabilities are integral to the design of ASTI data archiving solutions. Several alternatives are available for maintaining business continuity and access to valuable archived data in the event of a disruption.
Replication
Replication for High Availability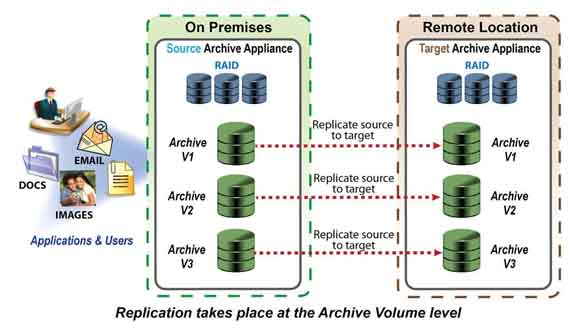 The Replication option enables data to be replicated automatically to one or more additional libraries in separate geographical locations creating total redundancy between libraries. Critical business operations are maintained by quickly switching libraries from active to passive as events dictate. Businesses and organizations can rely on the Replication option for fast RTO and RPO and continuous availability of valuable business data through the worst of disasters.
All data, or specific types of data, can be designated for replication through the creation of flexible archiving policies within the Archive Management Software application. The easy-to-use interface enables the creation of volumes for different types of data or classes of data such as mission critical, vital, top secret, etc., as required.
Click here to learn more about Replication