Upgrade & Expansion Options for Customers
Using Magneto Optical (MO) Media
All production of Magneto Optical (MO) media has been discontinued. Sony, the last manufacturer to produce MO media, has also announced discontinuation of the product in all formats (9.1GB, 5.2GB, 2.6GB).
Do you have a strategy in place for storing new data while continuing to read and access your important data stored on MO media?
Alliance offers tangible options that will enable you to continue operating on trusted optical technology without the headache of migrations. Alliance has a comprehensive technical knowledge of MO libraries and media and can guide you through the process of developing a strategy that will enable you to continue accessing your valuable stored data.
Did you know that Alliance offers solutions that will enable you to keep reading your data from MO media while continuing to write new data to UDO technology? Alliance G-Series direct-attached libraries provide mixed optical media support for both Magneto Optical (MO) and UDO technology in one library which eliminates the need for an expensive and risky migration.
Every system configuration is different – let Alliance help support your decision making process. Alliance Technical experts are available for a one-time, no-cost consultation to determine the optimal path to ensure protection of your valuable investment in legacy libraries.
To review your current Magneto Optical configuration with the Alliance technical team and review options, Contact Alliance Sales: 719-593-7900 or submit a Request for Quote.
Download the brochure:
Option 1: Lease or Purchase a G Series Library with UDO drives
Keep your legacy library in production while continuing to access and read data on MO media
(service contract recommended)
Write new data to G Series Direct Attached Library with UDO media
Benefits:
Cost effective, no-risk solution
Easy implementation
Continue accessing valuable data stored on MO media
Eliminates the need for migration of older data
Continue utilizing your third-party software (software must support UDO drives and media)
Comparing media costs, this option reduces media cost per unit while increasing capacity by more than six times (next gen UDO 2 at 60GB vs MO at 9.1GB)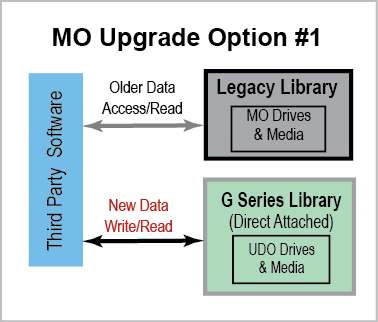 Option 2: Lease or Purchase a G Series Library with mixed UDO and MO drives
Continue to access and read data on MO media while writing new data to UDO
all within the same G Series Direct Attached Library
Mixed drives and media must be supported by third party software
Benefits:
Cost effective and relatively painless solution
Easy implementation
Eliminates the need for migration of older data
Combines all drives within a single device
Continue accessing valuable data stored on MO
Comparing media costs, this option reduces media cost per unit while increasing capacity by more than six times (next gen UDO 2 at 60GB vs MO at 9.1GB) media
Option 3: Move to a more full featured Network Attached Storage solution - NETArchive
Complete, all-in-one solution that includes Archive Management Software & RAID Cache
Migration may be required
Benefits:
Network attached appliance eliminates the need for third party software
Open archive platform and virtual fileshare eliminate the need for third party software and enable easy integration to support the archiving needs of other applications
Improved operation through high-performance technology
Continue with optical true WORM technology
NAS Archive Appliance technology offers:

Fully integrated solution
Centralized control and management of all new data via the Archive Management Software
RAID cache for faster access to recently written data
Access to additional capabilities such as Cloud, Encryption & Replication
Faster operation through high-performance technology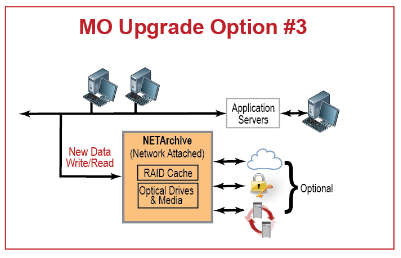 Option 4: Keep the MO in place and write new data to a full-featured NETArchive
Keep legacy library in production while continuing to access and read data on MO media (service contract recommended)
Open archive platform and virtual fileshare eliminate the need for third party software and enable easy integration to support the archiving needs of other applications
Write new data to a current and fully-supported Network Attached Archive Appliance library with UDO media
Complete, full-featured solution includes Archive Management Software & RAID Cache
No migration required
Benefits:
Eliminates the need to migrate older data by keeping MO library in place
Network attached appliance eliminates the need for additional third party software
Continue with optical true WORM technology
Reduces costs and risks
NAS Archive Appliance technology offers:

Fully integrated solution
Centralized control and management of all new data via the Archive Management Software
RAID cache for faster access to recently written data
Access to additional capabilities such as Cloud, Encryption & Replication
Faster operation through high-performance technology